Attention to Detail, A Passion for Working with his Hands Leads a Student to Find Meaning-and a Future Career-in Dentistry.
Vishnu Dental College and the Educational society is "a gateway to educational attainment". It stands as a symbol to show that learning can be the door to personal development.
My very first day in Vishnu Dental College, surrounded by green paddy fields,was on March 27th 2003. To your surprise, I never wanted to be a dentist in my life, as I rather wished to be a Medical doctor than a dentist. The first week and month in the college and hostel were my acclimatising days to the new environment with some home sickness. But after coming across some inspirational and motivational teachers, it endowed me with a belief that "yes, I could do this"and developed a forte that "whatever field we are in, be the best in it" which keeps us continuously striving to achieve our goals.
At VDC, the academic team provided a relevant dental curriculum and strive for excellence in learning, teaching, and assessment, which gives students a broader understanding and helps them gain and excel in work.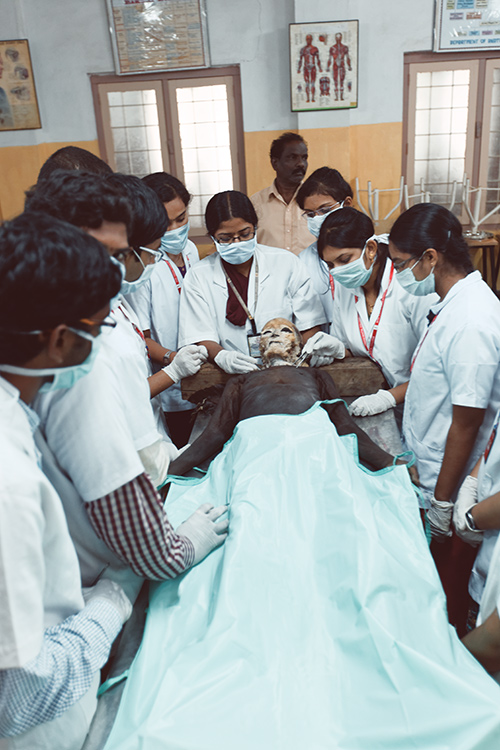 My five years at VDC are some of the best of my life so far. My class were an amazing bunch of people and I've made friends for life. I have amazing memories, especially with a memorable graduation day!! The teaching and non-teaching staffs were very helpful, full of enthusiasm, treated us like adults and also enjoyed a good laugh when appropriate!
The best thing about being a graduate of VDC for me is personal development. VDC has certainly been a fantastic educational society that has provided me with confidence and competence to become a dental professional.
My interest on forensics and research has allowed me to travel abroad. There were few mentors with whom I could discuss my career options. With their valuable suggestions and guidance I spread my wings to fly abroad to pursue my dreams and try achieve something in my life.
Being a post graduate student of University of Glamorgan, which is one of the best ranked university in United Kingdom and obtaining a Master of Science degree in Forensic Odontology is a dream come true to me, as it's the only university in the whole world which offered a full time 2 years master's program. We were strictly mentored and well trained with international standards involving real life forensic cases and exposed to various international forensic conferences.
Now my journey has turned full circle and I am back in India, in fact I am once again privileged to start my career in the most reputed dental institute in our country, Maulana Azad Institute of Dental Sciences, New Delhi. I have been selected as a   Senior Resident / Asst. Prof (among all other candidates nationwide) to set up and develop the Forensic Odontology branch in the institution, which is in the process.
Forensic Odontology is an upcoming branch of dentistry with a huge scope of   research and casework within the field. This speciality is most widely used for Age Estimation, Bite mark Investigation and analysis, Human Identification through dental remains, Child abuse & Disaster Victim Identification. In our country, forensic odontology proved its significant role in solving a high profile case involving Bite mark analysis in the recent past. Hence, qualified and trained forensic odontologists will be needed to investigate and interpret dental evidences at the crime scene.
So I would encourage you to find out what's important for you, what's your motivation is, and go ahead to pursue your BIG dreams with an enthusiastic spirit. Some of 'You' may think this BDS graduation is the end of learning but in fact it is only the start of your learning journey. And most importantly, gaining a degree or higher  degree helps build your confidence both personally and professionally. It is so important that you believe in yourself. Best of luck, I wish U every success.