As a language teacher, I strongly believe that without language, there is no existence in the world. Hence, language is a great gift to us for easy communication and happy life. Now a day's one language is not enough to lead life in the world comfortably. In 20th century, Technology is rapidly developed, people travel from one place to another place for their life and needs. So they need to communicate with different people in different places. It is only possible when they learn foreign language other than their own mother tongue. Especially, the technical students who want to do the job in MNCs, they need to communicate different race people in every day work. In this view, our Chairman envisioned the importance of it and initiated training programs in foreign languages to the students of Shri Vishnu Engineering College for Women, Bhimavaram. This began in the year 2008-2009 and has been continuing.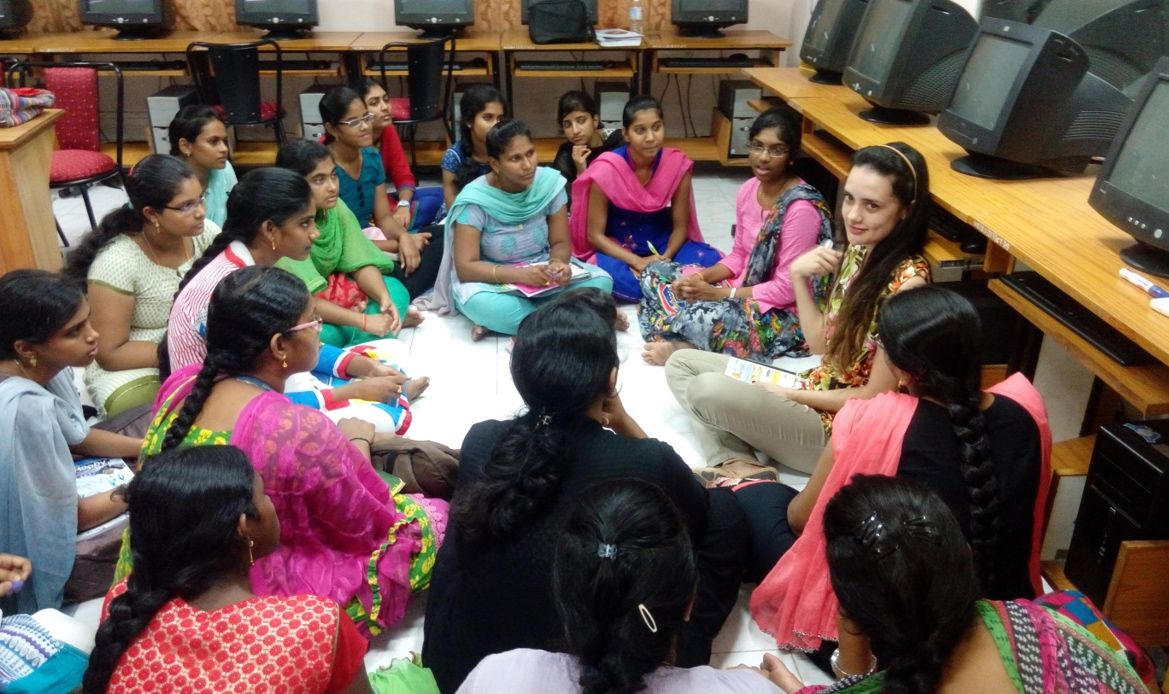 The knowledge in a few international languages is very essential to any graduate Student for a more prosperous career in this nuclear world. Knowing different languages is always desirable for easy access and better work environment. In view SVECW is facilitating certificate courses in German, Spanish, Japanese and French in association with Global language solutions, Chennai. SVECW is ahead in understanding the needs of the students and preparing them for their future.
Our students show a lot of interest in learning French, Spanish, Japanese and German languages. Each language has different levels. Over 150 students are enrolled every year for the courses offered by the institution. Each level takes more than 60 practical hours before awarding the certificate to the students. Even examination at the end of the course is conducted to give the certificate. The foreign language teachers from this institution give training in all aspects of language acquisition. Students are given oral as well as written training. All the classes are interactive and communicative and hence, the students benefit from these training classes.
After training, in my college, students are very enthusiastic so that they wish their teachers in their learning foreign language and conduct small interactive sessions with foreign language learning students. They are planning to do cultural activities with their foreign language for introducing the importance of learning foreign language to all of their friends and peer students.
Acquisition of languages will be a feather in the cap in the life of a student. Even, it glorifies their Curriculum Vitae. As the world is open, opportunities are galore. Students with this knowledge can better equip themselves in the modern set up. Foreign IT companies will certainly go for such students who have proficiency in their languages for better communication. Certainly, these students will have better opportunities when time knocks at the door.
---
JESSICA MESQUITA (Spanish Trainer )
She is a Portuguese and Spanish Trainer, comes from Spanish. She loves the place of India and teaching to Indian students. Her hobbies are dancing and learning about new cultures. A few excerpts from her.
Greetings!

We as foreign language trainers from Chennai, would like to begin by thanking the Institution and its faculty for all the support and cooperation that they have provided us during the entire time spent at this wonderful Institution. we were given excellent hospitality, the students were very enthusiastic and eager to learn. We really feel proud of the students' effort to attend classes and the effort taken from the side despite having their classes for the mainstream subjects. They are amazing students who chose to learn something new with their exams very close. Our work and effort would have been effective without the support of the faculty and all team members who were involved in assisting us. Even on holidays and Sundays they were unbelievably kind towards helping and assisting us. We would also like to thank and appreciate the heads and chiefs who wanted to do this. Your initiative to empower these amazing girls and vision you have for the students and your investment is an amazing, meaningful and useful for everyone in a few years. Your vision to empower and impart Indian and International knowledge to these young girls is a great initiative and as foreign language trainers we are immensely honored to be a part of your initiative towards helping these wonderful students. Hope to be associated with you and help you in your efforts in near future.

Thank you all for the wonderful opportunity that you provided us. It was an amazing experience.
---